En 2020 quedaron vacantes 168.000 puestos, de especialistas en ciberseguridad en toda Europa. Las empresas cada vez se encuentran con mayores dificultades para encontrar profesionales con certificaciones oficiales.
Una de cada cinco empresas españolas y la mitad de las europeas, encontraron dificultades para la contratación de profesionales IT. En la mayoría de los casos la mayor dificultad ha sido la falta de formación certificada y la experiencia practica.
Profesionales de seguridad
No solo se buscan profesionales de alta cualificación, se buscan perfiles totalmente digitales. Según el informe The future of Jobs Report 2020, solo el 60% de las habilidades actuales serán necesarias en los próximos 7 años. Esto supone un importante reto para las empresas, debiendo formar a sus empleados en ciberseguridad y encriptación.
La actual crisis sanitaria mundial, ha acelerado la transformación digital en todos los ámbitos, siendo de vital importancia para la recuperación económica. Cada día, más profesionales realizan su trabajo de forma no presencial, a través de herramientas de comunicación y entornos virtuales. Todos estos sistemas y su seguridad deben ser constantemente monitoreados para evitar cualquier ataque hacker o intrusión no deseada.
Si quieres convertirte en un/a profesional de seguridad y acceder a nuevas oportunidades. Fórmate ahora en Ethical Hacker con examen de certificación (CEH).
Agenda Digital 2025
La agenda digital 2025 de España, se ha marcado como objetivo, la inclusión de 25.000 nuevos especialistas en IA Inteligencia Artificial y Ciberseguridad. También en Europa, se han comprometido a aumentar en 20 millones en 2030, la actual cifra de profesionales IT.
Aquí se puede ver un gráfico de las tecnologías que se implantarán en las empresas de cara a 2025. Las empresas encuestadas coinciden en que la encriptación y seguridad, será uno de los sectores con mayor crecimiento, con casi un 29% de crecimiento respecto a otras tecnologías.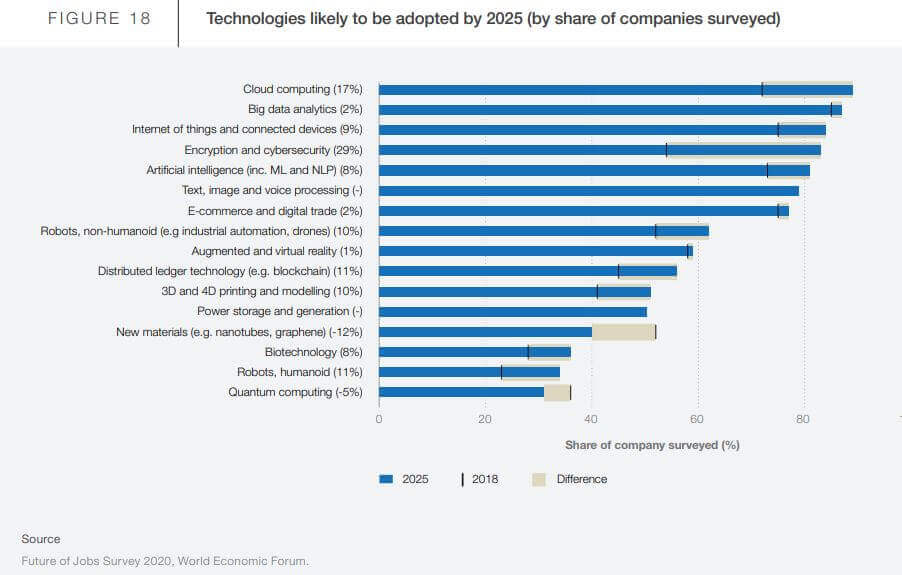 ¿Cuáles serán las Skills más demandadas en 2022?
-Ciberseguridad.
-Inteligencia Artificial.
-Ingeniería de datos.
-Virtualización y configuración de maquinas virtuales.
-Analista de Seguridad.
-Cloud asociado a las principales marcas Azure de Microsoft, AWS de Amazon y Google Cloud.
-Robótica humanoide
La demanda de puestos de ciberseguridad va en aumento, con todo el proceso de transformación digital, será uno de los perfiles más demandados en el fututo por las empresas y organismos públicos.
Aprende una profesión de futuro con el curso certificado en Ethical Hacker (CEH)